MICHELLE TENNANT NICHOLSON represents global nonprofits, causes and people who make a difference.
As Wasabi Publicity co-owner and Chief Creative Officer, she specializes in breaking news and has been called a five star publicist by Good Morning America producer, Mable Chan. In 2009, Michelle placed a new client on Dr. Phil within 8 hrs of signing the contract. In 2011, she scored the front page of the Wall Street Journal for a client.
In 2009, her technology company launched a free PR tool where experts and reporters meet http://www.PitchRate.com and she blogs at http://www.StorytellerToTheMedia.com where you can find social media networking links, current link press kits and current professional information on Michelle
This is Michelle's personal website (pre-Facebook days) where she updates family and friends on whitewater kayaking, her pets and latest adventures on her off-road motorcycle. This is the place to visit, if you want to get to know Michelle personally versus professionally. After-all, isn't the "hobbies" section of the resume infinitely more interesting than work experience? If you think so, too, read on.
For fun, you can find her teaching Indoor Cycling classes at the Leila Patterson gym in Fletcher, Carbon Fit Gym in Hendersonville, NC and online. She became a certified teacher (just because she loves Spinning) in 2011. In 2012, she got certified in SpinFlex. However passionate she is about teaching at the gym or pursuing triathlons, most of her time is spent behind a desk and phone pitching media friends great story ideas.
Passionate about impacting positive media and empowering transformation in our culture, Michelle only takes on PR clients who impact our world in a positive manner. See her family photos below. Here, she is pictured with President Bill Clinton in his DC home, September 2002, just four months after she launched her PR firm with Drew Gerber.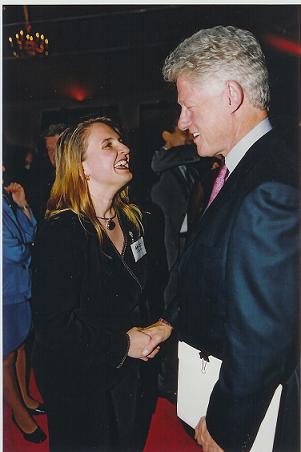 Read a cool article she placed on her husband: Recent article on motorcycle trip
The Christian Science Monitor, a syndicated newspaper, featured her technology company in a national article on virtual offices. Michelle works virtually (she wakes up; she works with computer and phone in hand from anywhere). It was her vision in 1999 to work beyond bricks and mortar to pursue her adventures like kayaking, dirt bikes and being in nature. Over the years her companies have developed tools for everyone to work virtually to spend more time with family and clients they love. Her companies' websites, online press kits, contact database management and newsletter distribution technology tools are second to none to manage virtual offices. The Associated Press quoted Michelle in an article on small business tips that ran in more than 400 papers nationwide. Here she is in a video series speaking to a church group about facing fears and in More Magazine featured as the public relations specialist in an article about the 10 most flexible jobs for women http://michelletennant.wordpress.com/2011/11/11/afraid-of-success-10-most-flexible-careers-michelle-tennants-story-in-more-magazine/
CNN features Michelle on the topic of ADS vs PR http://smallbusiness.blogs.cnnmoney.cnn.com/2009/06/17/advertising-vs-pr-what-pays-off/

Snap Shot on PR Firm Wasabi Publicity
Media Cool Tool and Awesome Affiliate Program
Virtual office tools, websites, online rolodex, ecommerce and more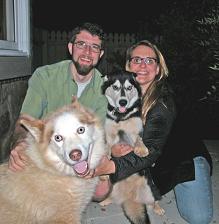 Michelle Tennant with huskies and husband
Michelle married her sweetheart, Shannon Nicholson in Costa Rica Valentines Day 2006.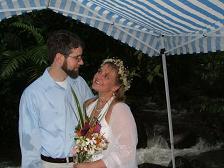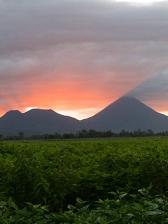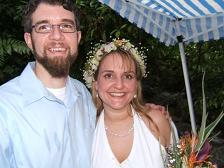 Volcano View at Our Costa Rica Wedding
Wed In the Heart of the Rainforest Wedding Couple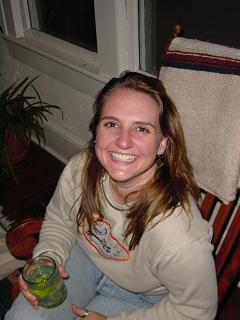 Michelle Tennant at Green River Narrows Kayaking Race Party in Asheville, North Carolina

Who is this chick?
ENTREPRENEUR Michelle Tennant co-owns Wasabi Publicity, Inc. and Blue Kangaroo, Inc. She has two decades of PR experience, specializing in grassroots initiatives. Her technology company produces a free PR tool where experts and media meet http://www.PitchRate.com and edit-it-yourself websites featuring built-in newsletter distribution, ecommerce and search engine optimization for effective online marketing. (You can get an edit-it-yourself website cost effectively. See www.PoweredByTom.com for more.)
Since it was always her goal to work virtually so she could travel, her companies focus on empowering other business owners to have choice by having all aspects of their business online: client records, website management and much more. Her companies' business practices have been noted nationally by the Associated Press, Good Morning America and PR Week.
She regularly executes campaigns with the famous and notable (see photo below). Grameen Foundation, a nonprofit associated with a Nobel Peace Prize microfinance winner, has enjoyed media placements in the Wall Street Journal by Michelle and her PR team. Recently she represented Take Our Daughters and Sons to Work, of which 32+million people participate each year. It was a program started originally by the Ms. Foundation for Women. As a self-proclaimed proud feminist, Michelle is especially honored to represent such a culturally significant program. Finally, she is scheduled to be featured in a book by Random House about success stories in business. Her company reached gross revenues of one million a year by just year six in business. Half of all new companies fail within their first five years. Her secrets and philosphies will be shared in the book and for sneak previews be sure to check out the "PR Freebies" (free downloadable teleseminars) at www.PublicityResults.com.
Yup, she knows her stuff. Even getting media coverage in her preschool years. See: Getting Ink at Age 5 The Dairy Princess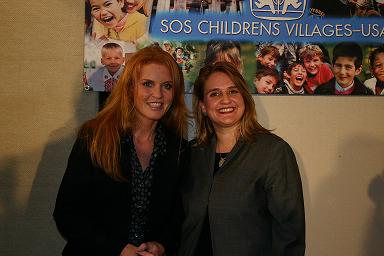 Duchess of York and Michelle Tennant at PR event Michelle managed
RESULTS PRODUCER A forest conservation campaign she created involving Robert F. Kennedy Jr. generated 96 editorial placements in less than twelve weeks. She won industry awards for a child development program she wrote and produced with the Cincinnati Zoo and Botanical Gardens. After launching an adult-training TV network for the National Head Start Association, she saved a Department of Education program 1/2 million dollars in one month's time. One of her global nonprofit clients was featured on a reality TV show with the Duchess of York. Their goal was 5 years; Michelle made it happen in 2.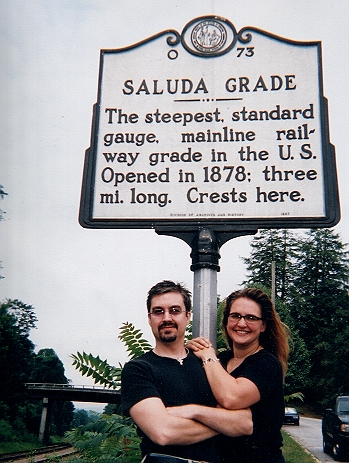 Michelle with business partner Drew Gerber in Smoky Mountain Hometown
Fun fact: Drew was Michelle's Seminar Leader in 1992 when she attended the Self Expression and Leadership Course at Landmark Education's center in Cincinnati, Ohio. That's how they met! They still use the same techniques and tools from that course in their business today. Here, they're pictured in downtown Saluda, a Mayberry type of town known for its steep grade. Only one other place on Earth has the air quality Saluda boasts.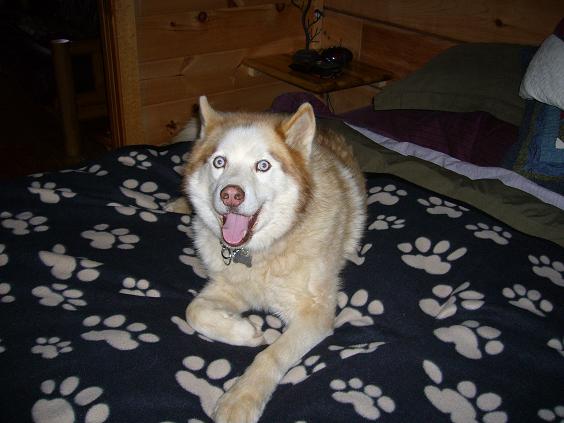 Lex Celebrating Being Inside The Cabin
Both our huskies are rescued from kill shelters. Please adopt if you can. Lex (pictured above passed away June 2008 and when we sent our notices to friends and family, Publicity Hound Joan Stewart lauded Lex for having a better bio than most humans.) See her blog entry: http://publicityhound.net/obituary-for-lex-the-husky-can-help-you-write-a-better-bio/
LIFE-LONG LEARNER She has a Masters Degree in Human Development from Pacific Oaks College (thesis on http://www.TheArtOfAha.com accepted 2012) and a B.F.A. in Children's Theatre and Early Childhood Education from DePaul University - Chicago. Since the early 90s, she has regularly attended personal growth and development courses at Landmark Education a company she proudly started representing in 2007. Courses in communication and productivity can be found at Landmark Education and Michelle feels the courses at Landmark were more powerful than her college degrees combined (certainly not as expensive!). She also continues to learn from those she represents like, Dan Hollings, noted Internet Marketing Strategist behind the smash hit movie, The Secret. (Sign up for his secrets at www.danhollings.com/secrets.) A practicing member of the Native American traditions, Michelle is very proud to also represent Dr. Matthew B. James, direct lineage of Huna (www.huna.com). Other clients Michelle has learned from are New York Times Bestselling author Debbie Ford (www.debbieford.com) and Canadian Bestselling author, Dr. Jonathan Ellerby. Of course, she loves PR because she continues to learn new things all the time. To see all her clients, visit www.PressKit247.com or a search engine she createed just for journalists and producers www.SearchPressKits.com.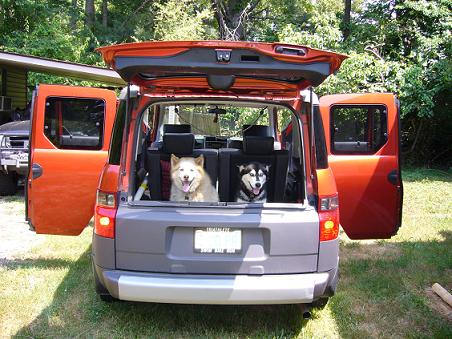 CREATIVE Throughout her career, she has engineered cutting edge projects in public relations, publishing, television production, distance training and online press kit technology. Visit her PR firm and sign up for her free creativity tele-club -- the "VIP" section is free and has loads of podcasts to download and be sure to check out her PR blog http://www.StorytellerToTheMedia.com.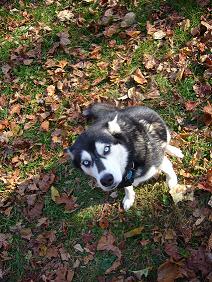 RISK-TAKING NATURE LOVER On her days off, she can be found whitewater kayaking on raging rivers near the Great Smoky Mountains, where she lives with her Class 6 Kayaking husband - Shannon, and their Huskies, senior cats (16+ yrs.) and tropical fish. She and her husband tour rural areas on their bike. Recent trips include Crested Butte and Salida, Colorado. Shannon toured South America by motorbike, too. In fact, Shannon toured South America 2008 and got hit by a taxi cab head-on. Check out his adventures: http://www.ShannonNicholson.net. She gets him media coverage too: Recent article on motorcycle trip And she ended up in Peru a month too while he recovered. See the whole story at http://www.michelletennant.com/accident_in_peru
Lately Michelle can be found riding her dual sport in and around Western North Carolina and the Blue Ridge Parkway near her office in Saluda - a little Mayberry mountain town.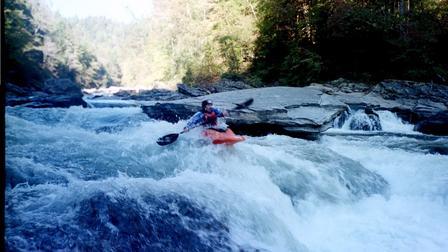 Michelle on Chatooga River Featured in Movie Deliverance
QUOTABLE Since starting her own businesses in 2002, she's been known to say two favorite quotes: 1) The only risk in life is living a risk-free life. 2) It's not just who you know. It's also who knows about you. 3) One of her favorites by another person: I'm not opinionated; I just tell it like it is. See her quoted at CNNMoney.com http://smallbusiness.blogs.cnnmoney.cnn.com/2009/06/17/advertising-vs-pr-what-pays-off/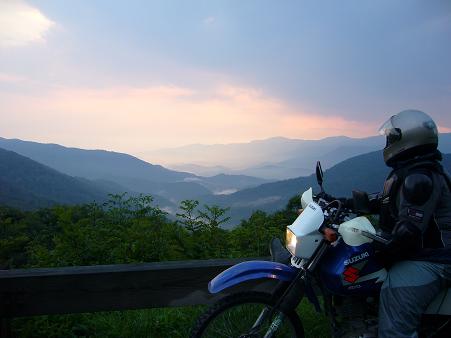 Adventures Near Home in the Smoky Mountains on Dual Sport Motorbikes
AWARD-WINNING AUTHOR PR Cookbook and Explorers World, Helping Baby Grow and Helping Children Grow, winners of Early Childhood News Awards. Her hand hygiene handbook won the Dr. Toy and Parenting Pick Awards.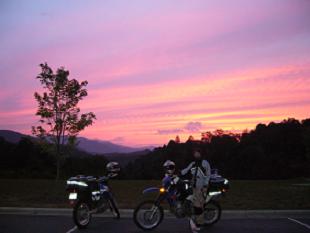 More adventures near home in the Smoky Mountains
SURPRISINGLY DIVERSE She started doing PR in Chicago when she was 20. They launched franchise markets by scoring editorial news placements using a Brother Typewriter that saved only 3 cover letters at a time. Faxing was king in 1990. To pay for undergraduate and graduate school, Michelle always held extra jobs. (And they weren't always waiting tables.) You could find her doing children's birthday parties on the weekend dressed as a princess, pirate, Barbie, Dorothy from the Wizard of Oz and more. To market her services, she wrote tips for parent magazines in exchange for a byline mention. At nights she marshaled airplanes while she worked at both UPS and DHL. Finally, for a few years she even taught grade school. (5th grade was her favorite!) A diverse past. A focused future as an entrepreneur and publicist.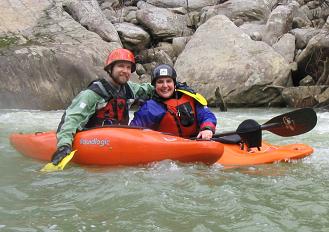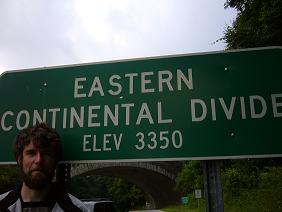 Living on the Eastern Continental Divide is Paradise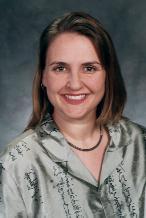 Writing an article on Michelle? Download her photo.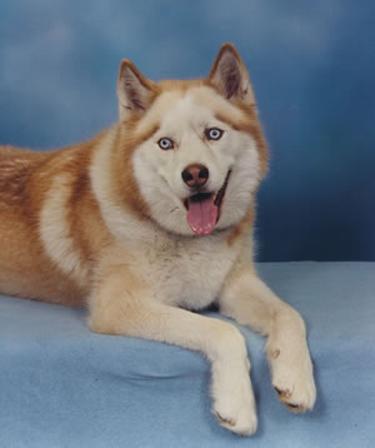 Michelle's husband always complains the photos of the huskies are larger than his. Well look at 'em.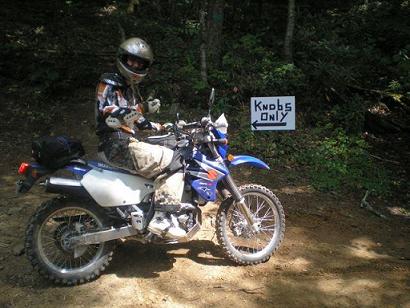 We Prefer Dirt to Pavement on Motorbikes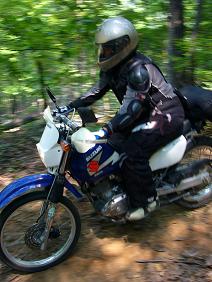 Michelle Descends Nine Percent Plus Grade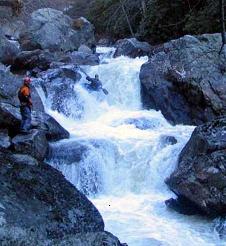 Shannon Scouts a Class 6 River Before Kayaking It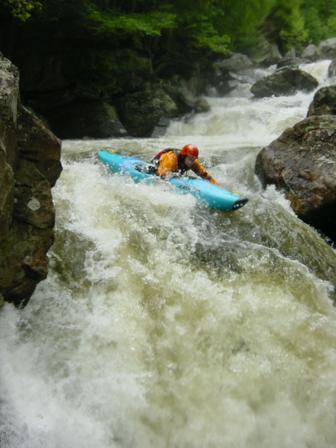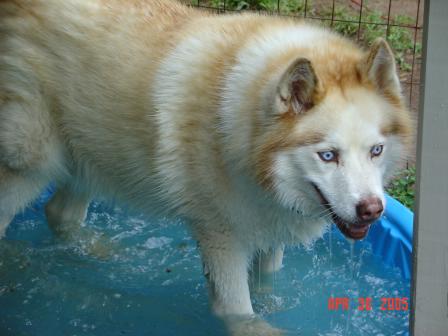 Huskies get hot in summer
Lex August Cool Off in Baby Pool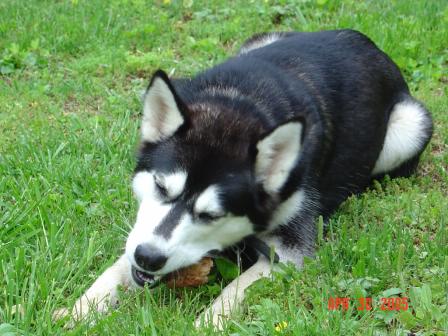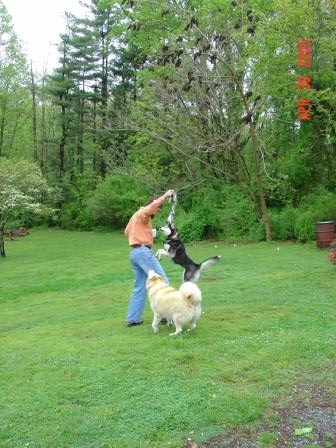 Flow Our Cat - She is 16 & Is Still Spry (The photo's huge.)
Santa Family Photo with Dogs (Photo also high res -- large.)
KissByRiverAtWedding (Large)
Lex the Children Entertainer at parties (Large photo)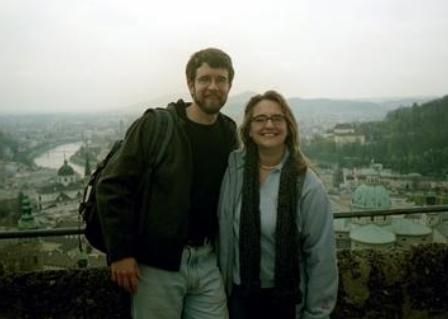 Michelle and Shannon Backpack Europe Spring 2004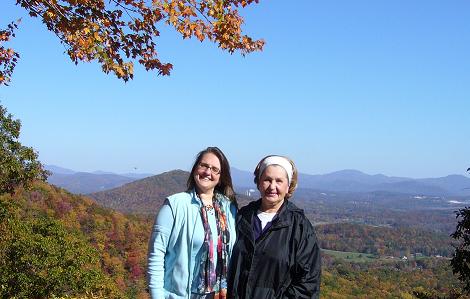 Michelle and Her Mom on the Blue Ridge Parkway a Half Hour from Her Office
Mom loves this view because it reminds her of her native land, Bavaria. Yes, I speak some German. In fact, I spoke German before I spoke English.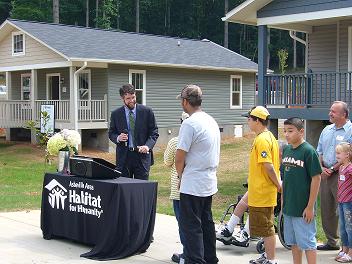 My Husband Shannon Represents Citifinancial at Habitat and Presents a New Home
Check back for more and for sure sign up for my newsletter so we can stay in touch.
XOXOX ~ Michelle